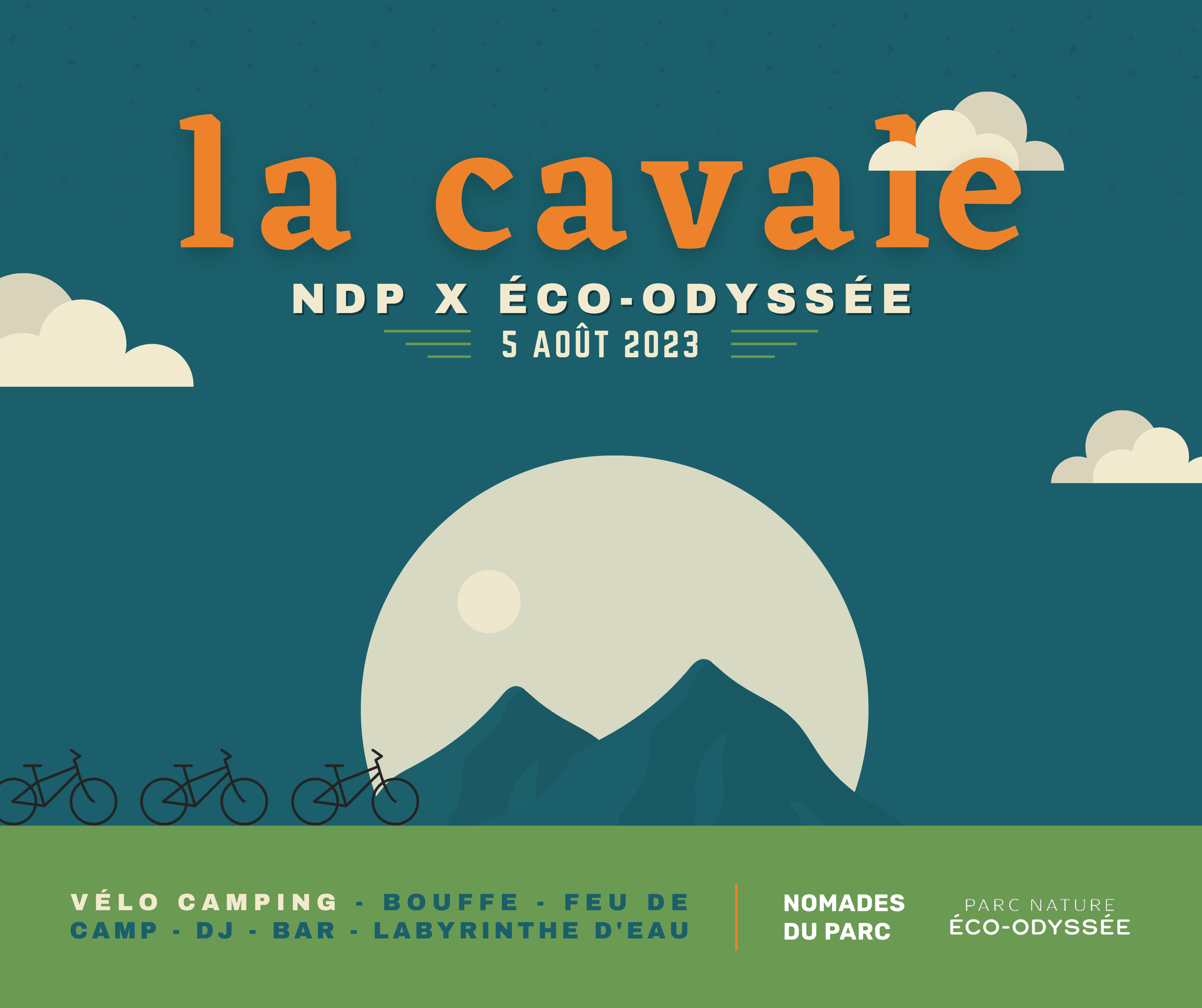 Nomades du Parc and le Parc Nature Éco-Odyssée invite you to take part in the first edition of their bike-camping event called "La Cavale"!
On Saturday, August 5th, La Cavale starts at Nomades du Parc in Chelsea and will have the beautiful Eco-Odyssée Nature Park as its final destination! Get your tent and sleeping bag ready because we're spending the night there! La Cavale is a day of adventure on the cycling trails of Gatineau Park and the roads of the Outaouais Hills.
Thanks to our partners, several surprise activations await the participants throughout the day :). Imagine yourself riding on one of Gatineau Park's trails when suddenly, BOOM, a surprise awaits. You don't want to miss that!
Moreover, with the hospitality of Parc Nature Éco-Odyssée, we will end our adventure with a delicious group dinner followed by an evening by the fire with music, a bar, and a nighttime exploration of their mythical water maze!!!
We want to keep some mystery, but for now, here's what you need to know :).
Where: Departure from Nomades du Parc for a guided group outing to Eco-Odyssée Nature Park.
When: From Saturday, August 5th at noon to Sunday, August 6th at noon.
Transport: Shuttle service for luggage and camping equipment transportation is included.
Who: Inclusive event for all cyclists (MTB, road, gravel).
What: Gear transport - Bike guide - Dinner - Camping access - DJ - Campfire - Water maze - Festive evening.
Presale: $60 + taxes until July 14th.
Regular Price: $70 + taxes.
Watercraft and Water Maze: +$15.
Tickets :
https://nomadesduparc.com/products/la-cavale-evenement-de-velo-camping
A cycling adventure that will go down as one of the highlights of your summer.
Event Schedule:
During La Cavale, several guided routes of varying levels will be offered to accommodate all cyclists! Whether you ride a mountain bike, road bike, or gravel bike, all cyclists are welcome!!
The different routes will be announced soon. During the rides, groups will be limited to a maximum of 12 people to ensure safety during the journey and maintain consistency in the skill level of participants within each group.
Event Day:
Starting at 11 AM on Saturday, August 5th, you can come to check-in and drop off your luggage at Nomades du Parc located at 10 Chemin Scott. The transport of your camping gear and luggage is included in the ticket price. No need to carry them on your bike.
The different groups will depart at 1 PM. You will then embark on an adventure with your guide through Gatineau Park's trails towards the first rest stop. You will continue your journey, exploring the various attractions on your itinerary until you reach Eco-Odyssée Nature Park. Arrival is expected between 5 PM and 6 PM.
Once there, you will have access to your camping gear and luggage. You will have free time to set up your tent, take a shower, and explore the site before dinner, scheduled for around 7:00 PM.
As night falls, get ready for an extraordinary experience as you explore the mythical illuminated water maze at Eco-Odyssée Nature Park. Indeed, the campground is surrounded by a vast aquatic labyrinth with 64 intersections spread over more than 5 km, which you can explore by stand-up paddleboarding, kayaking, or canoeing. Very cool. (Additional $15 fee to access the water maze)
The evening will be animated by our favorite DJ, Toupin on the vinyl!! Near the campfire, a bar and a snack bar will be open throughout the evening. Bringing your own alcohol is not allowed.
Next day after the event:
The bike ride back to Nomades du Parc will take place on Sunday, August 6th at 9 AM on the green route connecting Wakefield to Chelsea (+- 21km). On the way back, we will stop at a café in the village of Wakefield (breakfast and coffee not included).
How to prepare:
Buy your ticket before July 14th to take advantage of the pre-sale.
Make sure your bike is safe and functional.
Bring snacks and hydration for the bike ride.
Check the list of items not to forget.
What to bring for camping:
Tent
Sleeping pad
Sleeping bag
Earplugs
Headlamp
Warm clothing and spare clothes
Bedding. Keep yourself dry for the night.
Beanie/cap
Water bottle
Footwear
Toiletries
Towel
Credit card/cash
Food and Drinks:
Dinner on Saturday, August 5th, is included in your ticket price. Dinner will be served around 7 PM to all participants. The dinner will accommodate vegetarian options. A snack bar will be open all evening for those who want to continue snacking (wood-fired pizza, hot dogs, and other items ($) ).
A bar will be open on-site for those who wish to purchase alcoholic beverages. Bringing your own alcoholic beverages is not allowed.
Tickets : https://nomadesduparc.com/products/la-cavale-evenement-de-velo-camping